The Problem: Global Warning
Carbon Dioxide composes approximately 80 percent of all greenhouse gases. More than 25 percent of that C02 comes from electric power plants.
The Solution: Wind Power and Corporate Responsibility
Richmond Web Services is committed to helping to solve today's energy challenges. In February 2007, we demonstrated our commitment by partnering with Renewable Energy Choice. We now use power with a purpose and offset 100% of our corporate and employee energy usage with Certified Wind Power.
How It Works:
For every unit of renewable energy generated, an equivalent amount of renewable certificates are produced. The purchase of renewable energy certificates supports renewable electricity generation and thereby offsets conventional, environmentally dirty electricity generation.
Our energy is now 100% Wind-powered and supports Wind Farm growth throughout the U.S. We are proud of our contribution to addressing the environmental crisis and are glad to know that when you do business with Richmond Web Services, its a purchase you can feel good about.
Richmond Web Services has also received special recognition as a member of the EPA's Green Power Leadership Club.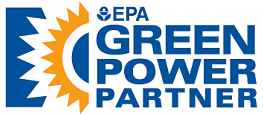 .

Guide to Purchasing Green Power

Related Green Power Links:
The Power Profiler is a tool developed by EPA to help users determine the specific air emissions impacts associated with their home or business's electricity use.
Renewable Choice Energy promotes the development of clean alternatives to fossil fuels. Renewable Choice connects renewable energy producers with forwards-thinking consumers including Fortune 500 companies, cities, universities and residential customers across the country. As a pioneer in wind power marketing, Renewable Choice Energy has helped develop many Industry standards and best practices, and is the leading supplier to LEED-certified green building projects.